This tool helps to you make it faster and easier to create and maintain exceptional web site. This is expression web release by Microsoft. This tool integrated with PHP, HTML/XHTML, CSS, JavaScript, ASP.NET or ASP.NET AJAX.
This free version of Expression Web is not eligible for Microsoft technical support and is community support. 
Following language are support
German
Spanish
French
Italian
Japanese
Korean
Simplified Chinese
Traditional Chinese
Product Details:
Version: 4.0.1460.0
File Name: Web_Trial_en.exe
Date Published:  20-12-2012
File Size: 98.7 MB
System Requirement:
PC with 1 GHz or faster processor
1 GB of RAM or more
2 GB or more of available hard-disk space
.NET Framework 4.0
Silverlight 4.0
Support for Microsoft DirectX® 9.0 graphics with Windows Vista Display Driver Model (WDDM) Driver, 128 MB of graphics RAM or more, Pixel Shader 3.0 in hardware, 32-bits per pixel
DVD compatible drive
1024 x 768 or higher resolution monitor with 24-bit color
Internet functionality requires Internet access (additional fees may apply)
Some product features require FireFox 3.0 or later, Internet Explorer 8
Microsoft Expression Web 4 (Free Version): Direct Download link
Installation Guide
Step 1: Please download and install .NET Framework 4.0.
Step 2: Download the Microsoft Expression Web 4 (Free Version) and start run the installer.

Step 3: Click to Accept the installation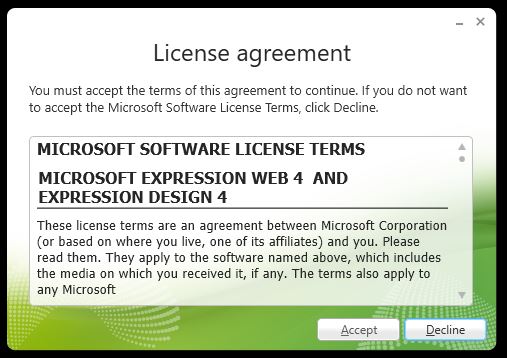 Step 4: its your option whether Yes or No for Customer Experience Improvement Program.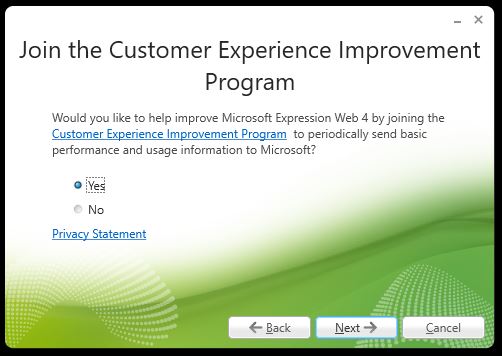 Step 5: You choose where you want install, Select the location and click the install button.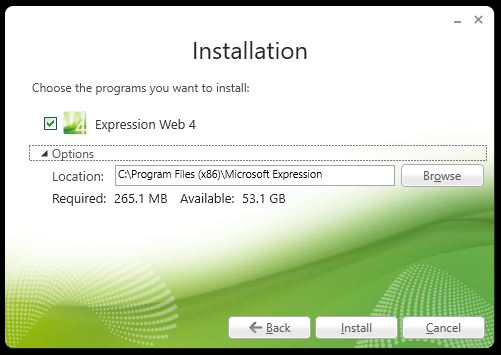 Step 6: Installation in progress.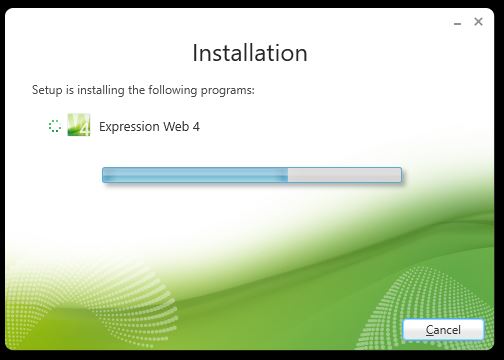 Step 7: You can see once installation successfully completed, you will see the below dialog box.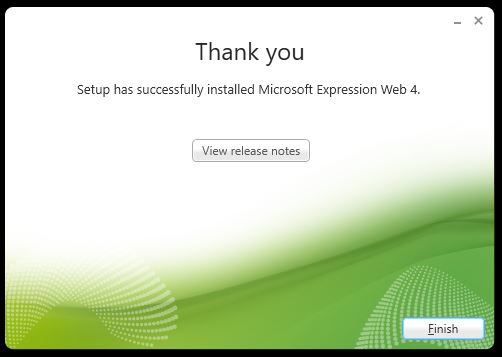 I will keep post some article how we can use this tool to create Web site and other features.
Thank You.